The LFWC of LA was organized in Shreveport, Louisiana on December 29,1899. It joined the General Federation of Women's Clubs on January 27, 1902. In 1947, it was incorporated as Louisiana Federation of Women's Clubs, Inc. The name was changed to GFWC of Louisiana, Inc. May 1, 1991.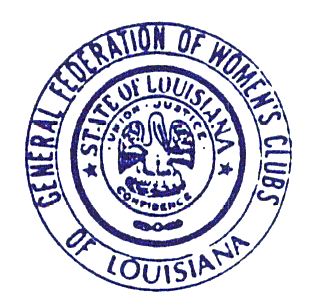 STATE FEDERATION EMBLEM
The Louisiana State Seal Encircled by GFWC and Magnolia Leaves
STATE MOTTO
To be, not to Seem
GFWC MOTTO and THEME
Unity in Diversity
* * * * * * * * * * * * * * * * * * * * * * * * * * * * * * * * * * *
GFWC INTERNATIONAL PRESIDENT'S SPECIAL PROJECT
Literacy: Tutoring from the Heart
GFWC of LOUISIANA STATE PRESIDENT'S THEME
Good Friends Working for the Community
"Extending the hand of friendship to each other and the community"
GFWC of LOUISIANA STATE PRESIDENT'S PROJECTS
Preserving America's Wetlands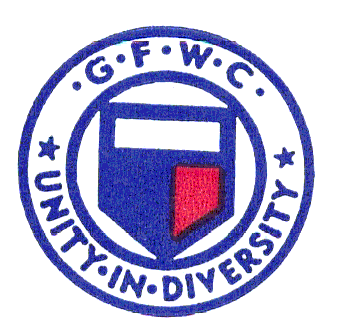 The General Federation had not long been underway when the question arose as to what distinguishing emblem its members should wear so as to recognize each other. Dr. Leila G. Bedell of the Chicago Women's Clubs recommended at the 1892 convention that "some simple badge be designed which all could procure and wear."
A committee was named with Jane Cunningham Croly, GFWC founder, Charlotte Emerson Brown, first GFWC President, and Jennie de la M. Lozier, of Sorosis, as members. They chose a design that incorporated a rising sun as the symbol. There is no record that the design as ever endorsed by either the convention or board of directors, but when the Council met in 1893, the pin was already in distribution. The pin was blue and silver with a background of terra cotta.
When Alice Ames Winter became president in 1920, she was dissatisfied with the rising sun symbol, saying "We decided that the sun had risen and that the time had come (for a new emblem that more nearly represented the nature organization)". Accordingly, a new design, submitted by Douglas Donaldson, was approved in 1920. The design shows a crusader's shield, signifying enlightenment, emerging from the darkened world, which is represented by a black center; the band encircling the center signifies eternity; a fully risen sun on a field of blue, for Purity and blue or Constancy - surrounded by the letters GFWC and the motto "Unity in Diversity".

Calendar/Events Departments Special Projects Districts/Clubs
Last updated January 6, 2005

jetbing@cox-internet.com